Welcome to our first "Monochrome Monday," in which the WatchTime blog presents articles, reviews, and exclusive watch-industry interviews from the popular online magazine monochrome-watches.com. In our inaugural article, Monochrome founder Frank Geelen and his team hope and speculate on what Rolex might have in store for its fans at this year's Baselworld watch fair.
Going on several decades now, the new Rolex watches making their debut at the Baselworld watch fair have been one of the watch world's best-kept secrets leading up to the event. With just a few weeks to go before the start of Baselworld 2014, watch enthusiasts around the world are speculating what Rolex's newest models will look like. Two years ago, Monochrome brought you the news about the likely debut of a "Sky-Dweller" watch and that proved to be a correct prediction — at least for the name, because nobody had a clue what the watch would look like. Last year, we hoped in vain for a new Rolex GMT-Master with a "Pepsi" (red/blue) ceramic bezel. So, another year, another Baselworld, another chance to make a correct call… here we go again!
Here at Monochrome HQ, we've had some pretty intense discussion about the new models we'd like to see Rolex introduce. A GMT-Master II with a Cerachrom "Pepsi" bezel is still top on everyone's wish list. Beyond that, we would also love to see a modern remake of the Ref. 6263 Daytona, a remake of the Sea-Dweller, a blue-dial Milgauss, and a stainless steel Sky-Dweller. And thanks to the magic of Photoshop, we can take a look at what each might look like.
Rolex Daytona Ref. 116263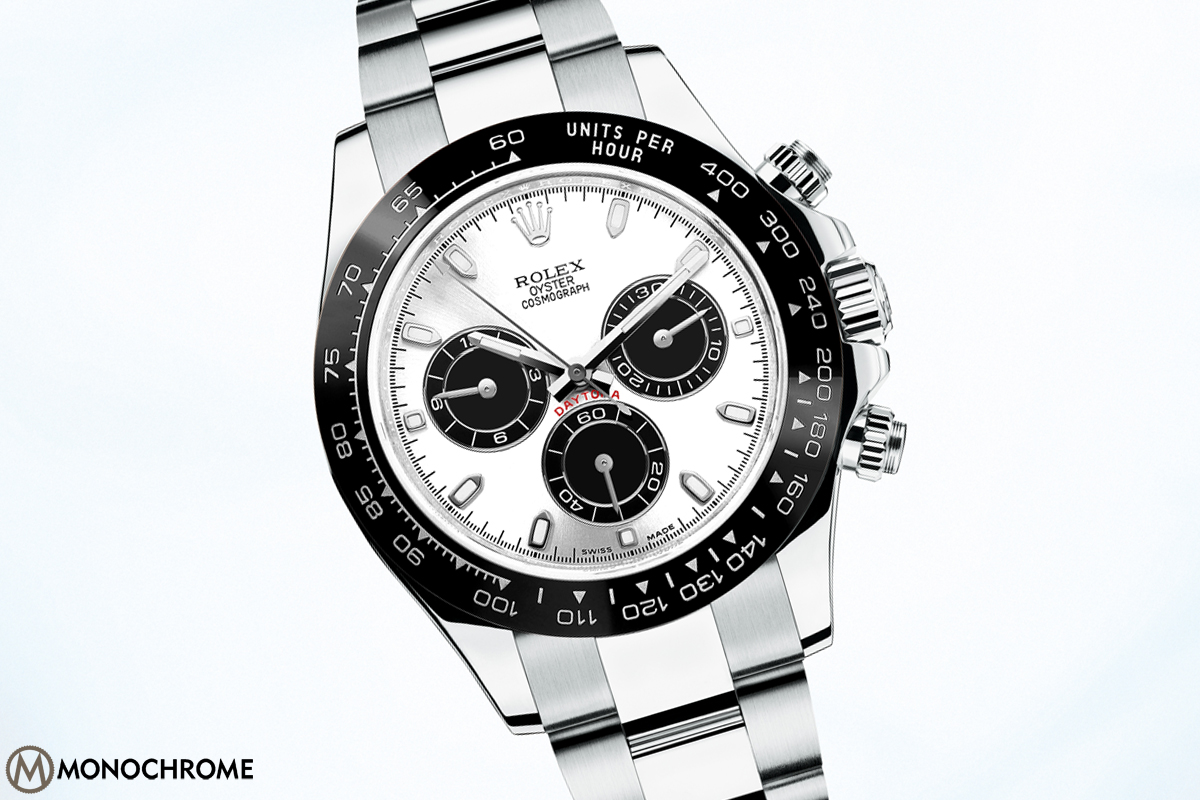 Cerachrom bezels seem to be the latest trend for Rolex. They have some superior properties, including being virtually scratch-resistant and the ability to keep their color forever without fading. They are almost impossible to replace with after-market parts, which is an advantage for Rolex.
So let's imagine a revival of one of the coolest watches that Rolex ever made, the Daytona 6263 Big Red. In short: "Panda" dial, red "Daytona" text, screwed pushers, and a black bezel. It would have the same case as last year's platinum Daytona, but in stainless steel and with a ceramic bezel in black. Add to that the famous white face with black subdial configuration, which Rolex enthusiasts have nicknamed the "Panda" dial. To stay as close to the original 6263 as possible, we'd remove the five lines of text on the current dial and replace it with simply "Rolex – Oyster – Cosmograph." How cool would that be?