In this selected article from our "Cool Finds" series on Monochrome Watches.com, in which we seek out little-known and often underrated vintage chronograph watches, we focus on a single brand, one that we love and one that is also growing fast in the heart of collectors: Heuer, predecessor of today's TAG Heuer. Recently we unearthed a trio of vintage Heuer Chronographs that we present to you here.
A mint-condition Heuer Silverstone with blue dial
The Heuer Silverstone is a pure interpretation of what the late 1960s and early 1970s produced. It is a watch with a great personality and that presents no compromise in its design. Silverstone watches have a very unusual "TV screen" shape, i.e.,  a square case with rounded angles, and colorful dials with a brushed finishes that many (but obviously not all) would find appealing. The watches that Heuer released in the 1970s were audacious in their design and stood apart from the rest of the industry. With the conservative Carrera as an exception, Heuer's models included the big and bulky Autavia and the iconic, square-shaped Monaco. All of them shared the same very interesting movement, Calibre 11, and eventually its evolved version, Calibre 12, known as the first automatic chronograph, which was first presented in 1969.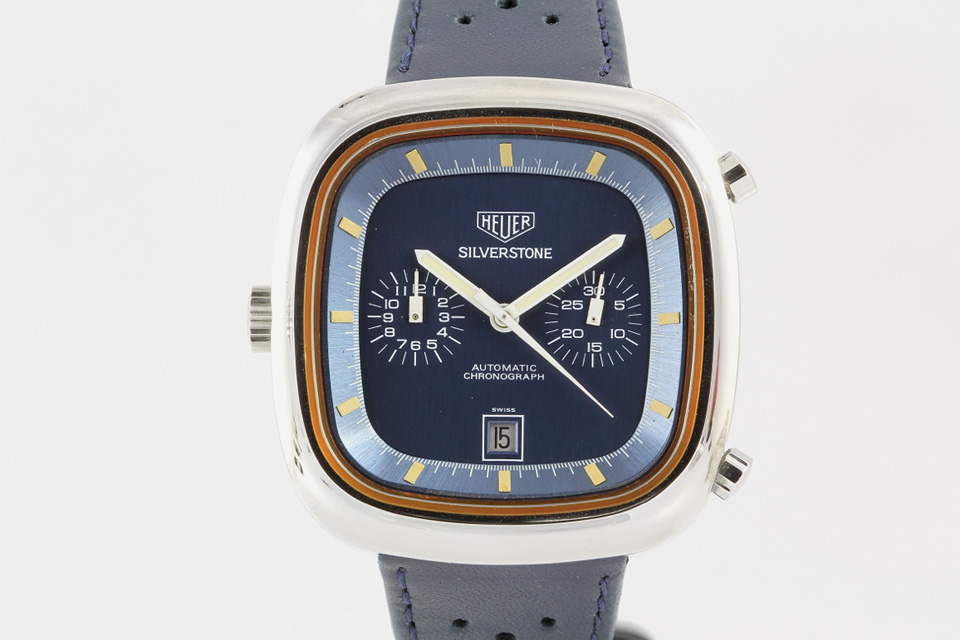 The Heuer Silverstone may not be very "mainstream" but it has a great value in the heart of vintage-Heuer enthusiasts. It was available with dials in brown, burgundy, green and in this very nice blue, clearly the easiest color to wear. The Silverstone here has been fully refurbished by a Heuer specialist and is in perfect condition, both mechanical and visual. HeuerTime lists it here at 5,800 euros.

A very rare triple-calendar "Panda" Heuer Carrera
Carrera: a name full of history that reminds us of both a sports car and a famous and dangerous road race. But if you are reading this, it will certainly remind you of an iconic watch, a competitor to the Omega Speedmaster and Rolex Daytona. The first generation of the Heuer Carrera, with its pure and simple design, has to be considered one the greatest achievements of company scion and designer Jack Heuer — a true classic that has earned its place in  vintage chronograph collection. During its early life, the Carrera has been made in many versions: silver dial, black dial, black-and-white "panda" and "reverse-panda" dials, two or three registers, with several movements (Valjoux 72, Valjoux 92 and Valjoux 7730), with or without date. Though all of these are collectible, one has to be considered apart, the only version that came with a "real" complication: the Heuer Carrera Dato 12 Ref. 2547.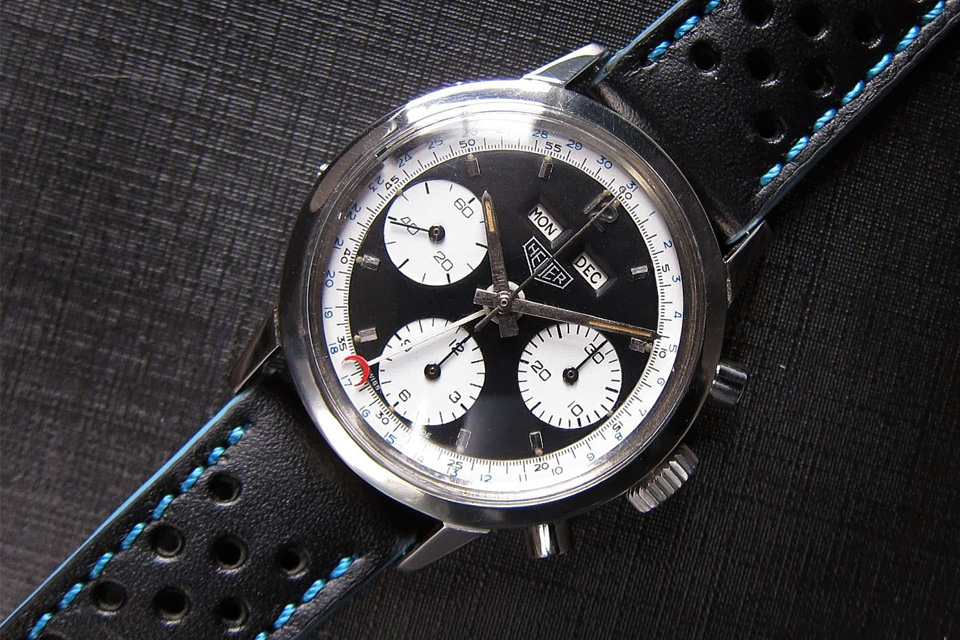 Under this complicated name hides the unusual triple-calendar and reverse-panda-dial edition of the Heuer Carrera tri-compax chronograph. So, what we have is a three-registers chronograph that features a black dial with white subdials and a Valjoux 72c (the "C"stands for "calendar"). This movement comes with a column-wheel mechanism and displays the date (on the dial's outer ring, by means of a central hand), the day of the week, and the month (both displayed in windows at 12 o'clock). This Heuer Carrera (Ref. 2547) is one of the most collectible Carrera watches and one that you won't find every day. We found this one up for auction on eBay earlier this month.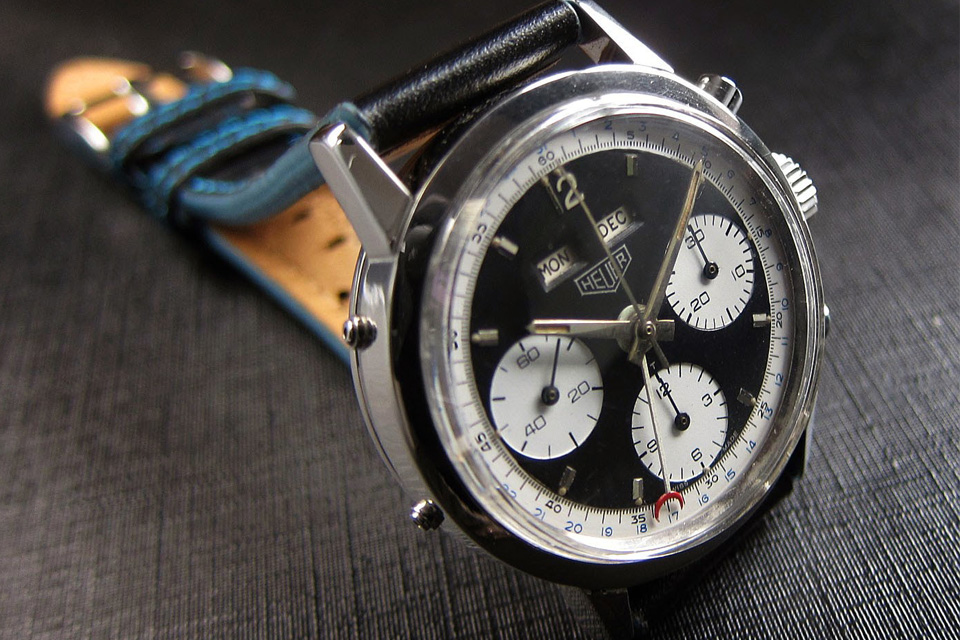 A military-style Heuer Autavia with a perfect pedigree
The Heuer Autavia (the model name stands for "Automobile-Aviation") is the perfect example of a 1970s tool chronograph. It has been made in multiple editions inspired by racecars, dedicated to diving or to world travel (with a GMT complication), and even in military versions. We knew about the existence of few military Autavias, some with black DLC cases, some with gray dials and luminous points as indexes. But this one is clearly less common. It has the classical, bulky case of the Autavia, the usual fluted pushers and the same rotating bezel but the dial and the hands are different. It presents a typical pilots'-watch layout, with luminous Arabic numerals printed on a black dial and an arrow-shaped second hand. It has lots of similarities with another military watch made by Heuer, the Ref. 1550SG Bundeswehr.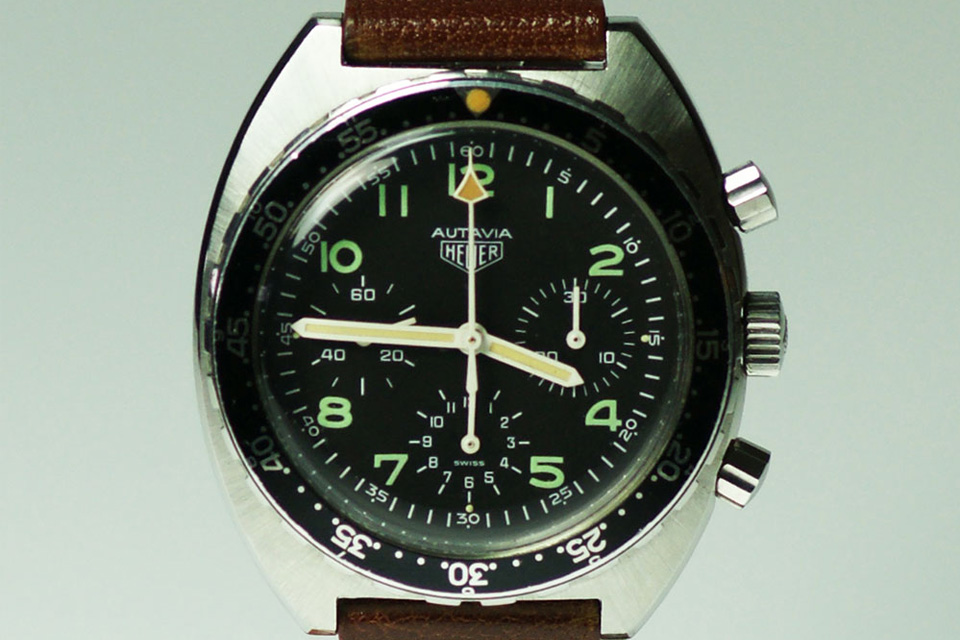 The Bundeswehr, the German armed forces, commissioned this special Autavia (Reference 73663MH). It doesn't contain Caliber 11 but a three-register Valjoux 7736, certainly easier to service and more resistant in tough field conditions. Already a rare bird, this one, listed by Chronoaddict, has one of the best pedigrees possible, as it was featured in the book, "Heuer Chronographs" by Arno Haslinger and bought from Bonhams' auction of the Haslinger collection. Compared to a typical Autavia, which usually cost you around GBP 2,000, this one is understandably more expensive, at GBP 5,000.