A while ago IWC introduced an entirely renewed Aquatimer collection. All IWC Aquatimer watches have been redesigned and now feature the same design cues, and, more importantly, functional upgrades such as the new Dive-Safe system and an externally operational internal dive-time bezel. We tried out the IWC Aquatimer Chronograph Edition "Expedition Jacques-Yves Cousteau" for several weeks and ended up liking it more and more as the test period went on.
The IWC Aquatimer Chronograph Edition Expedition Jacques-Yves Cousteau (yes, the name's a mouthful) is a special edition, based on the Aquatimer Chronograph. It features a recognizable blue dial that previous "Expedition Jacques-Yves Cousteau" watches also had. It commemorates Cousteau's fantastic voyages and films that made millions aware of the beauty of the underwater world — in a time when most people didn't have a clue about what was going on under that blue surface.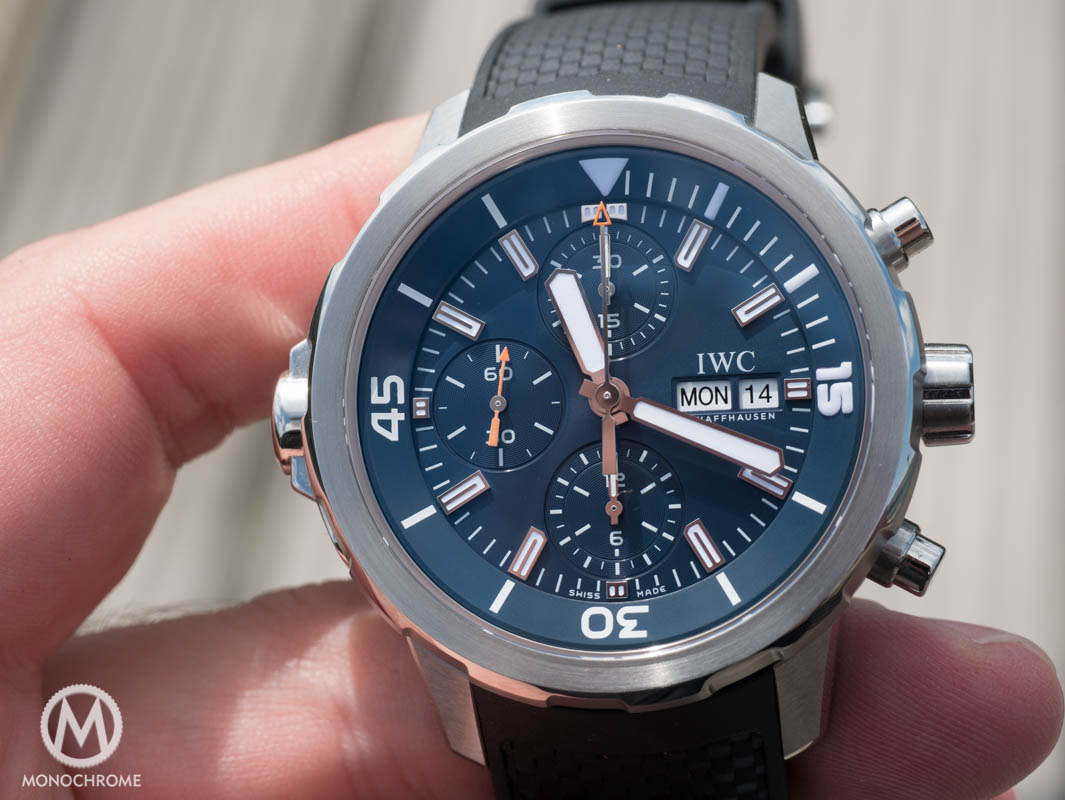 History of the IWC Aquatimer:
In 1967, IWC introduced the very first Aquatimer, which had a depth rating of 200 meters. The first IWC Aquatimer adopted style elements similar to those used on many dive watches of that era. This is called a compressor-style case, featuring two crowns on one side of the case. One crown to wind the movement and adjust the hands, and the second crown to turn the inner diving bezel.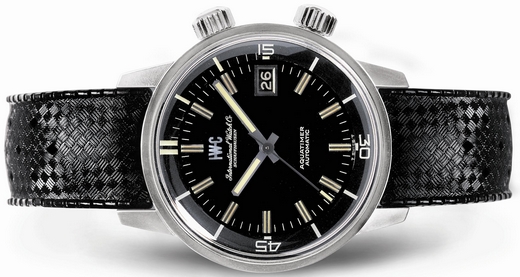 IWC Aquatimer 1967:
In 1982 IWC introduced the legendary Ocean 2000, conceived in collaboration with the Porsche design team, which, as its name indicates, had a depth rating of 2,000 meters. At the time, it was the first serial-produced dive watch in titanium with a 2,000-meter depth rating. Today it's a highly sought-after collectors' piece. During this period, the "normal" Aquatimer was not in IWC's collection. The Ocean 2000 did not feature an inner diving bezel, as its predecessor did; however, its external one obviously served as an inspiration for the new 2014 Aquatimer collection.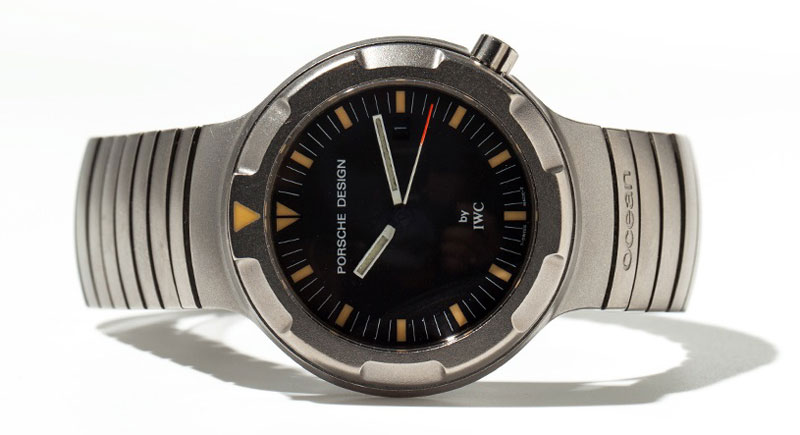 IWC Porsche Design Ocean 2000:
The Aquatimer reappeared in IWC's collection in 1997, as part of the legendary GST collection. GST stands for "Gold, Steel, Titanium," and IWC was a pioneer in using titanium as material for watch cases and even bracelets. The new IWC Aquatimer models features an external dive bezel, like the Ocean 2000. Two years later, in 1999, IWC introduced another iconic dive watch: the IWC GST Deep One. This was IWC's first dive watch with a mechanical depth gauge.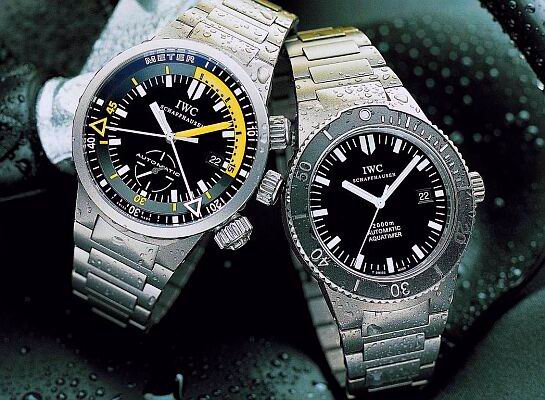 IWC GST Deep One and Aquatimer 2000:
In 2004, IWC introduced an entirely new Aquatimer family of watches. All models featured an inner diving bezel, which wasoperated through a dedicated crown. In 2008, IWC celebrated its 140th anniversary and introduced the Vintage Collection, which comprised of six "founding legends," including a re-issue of the very first Aquatimer. The re-issue featured an inner diving bezel, like its predecessor. An entirely new IWC Aquatimer collection debuted in 2009, again without an inner dive bezel on the watches. (The inner diving bezel and IWC seem to have a bit of a love/hate relationship: while the brand recognizes the importance, both functionally as well as aesthetically, it remains a difficulty in production and service.) Together with the new Aquatimer family, a new version of the iconic Deep One, now called the Deep Two, was introduced. This year, IWC brings back the inner rotating dive bezel, which is now, for the first time, operated by an external rotating bezel. All the new watches in the 2014 Aquatimer family feature this very user-friendly diving bezel. Also, a third version of the dive watch with mechanical depth-gauge is introduced: the Deep Three.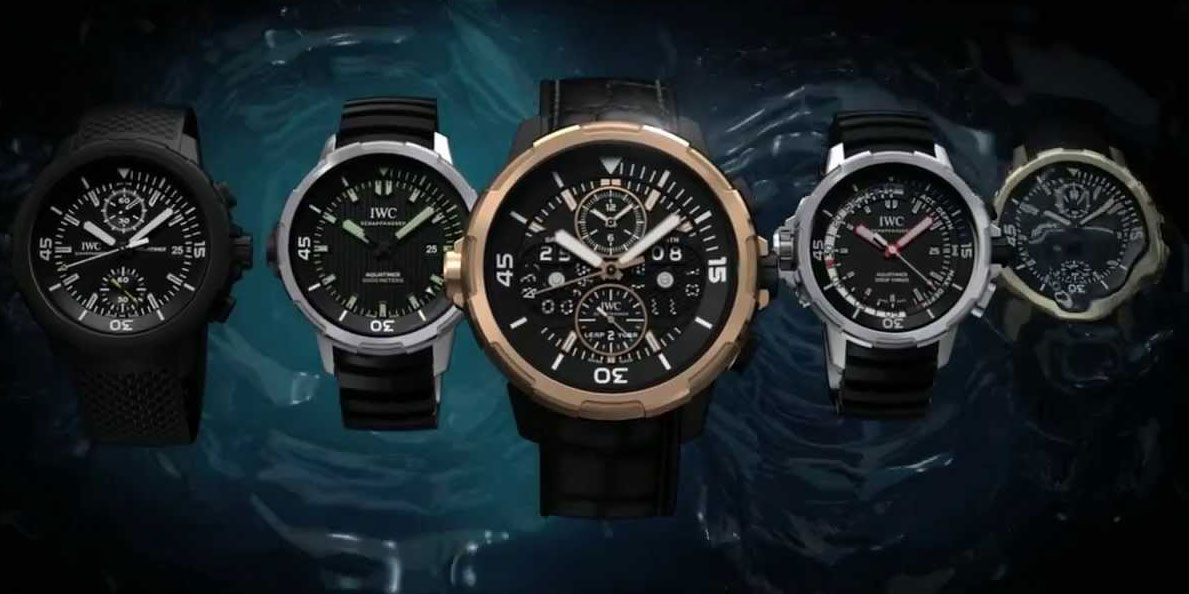 Overall appearance:
The Aquatimer is a robust watch, and the model we had for review came on a black rubber strap. It's a large and sporty chronograph that goes well with a casual or sporty attire, but shouldn't be worn with jacket and tie. The stainless-steel case, on the black rubber strap and with the dark blue dial, just looks pretty awesome. It's not extremely distinctive, but it stands out just enough to be noticed; we got quite a few positive comments ("out of the blue," you might say) while wearing the IWC Aquatimer Chronograph Cousteau.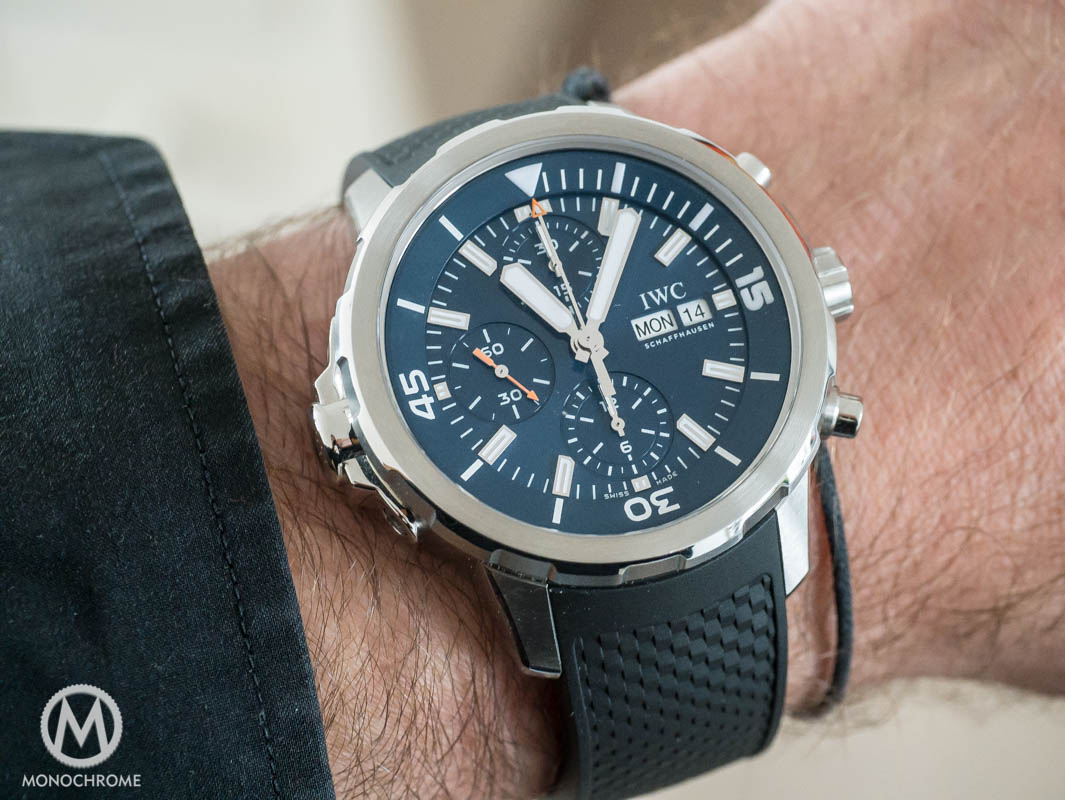 Features:
Let's start with the obvious: it's a dive watch, it has a robust feel, it features a chronograph, and it has a depth rating of 300 meters. The chronograph, with central seconds hand, 30-minute register at 12 o'clock, and 12-hour register at 6 o'clock, is operated by pushers at 2 and 4 o'clock. At 3 o'clock is a day and date indication, and the running seconds indication is the small orange hand at 9 o'clock. One of the least "outstanding" features is among those we loved most; it's the inner rotating dive bezel that is operated by an external rotating bezel. IWC calls it the DiveSafe system, and it's a very clever construction that allows you to operate the internal diving bezel via the external bezel.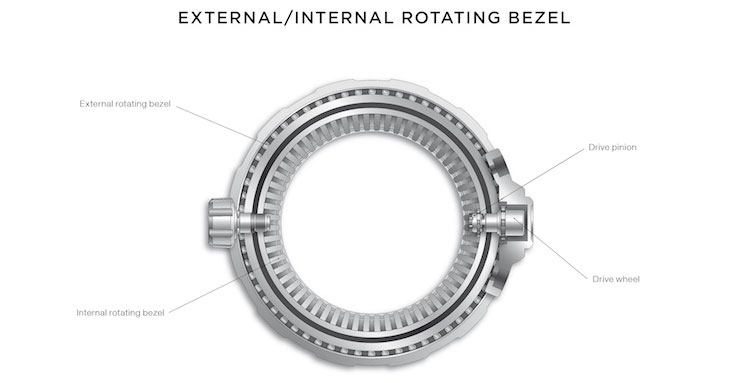 The external bezel is bi-directional, and through a sliding clutch system it locks into place at one-minute intervals and ensures that the internal bezel can only be moved counterclockwise. Another new feature that can be found on the new Aquatimer family of watches, is the IWC bracelet quick-change system. The well-known system, which uses spring bars, is easily accessible with a spring-bar tool, and has more solidity with the additional metal clamp. This may seem insignificant; however, if you have tried to change a rubber strap before, you know how much fidgeting it takes before you finally can remove the strap. The new bracelet quick-change system might not look like something very special, but in reality it's a vast improvement.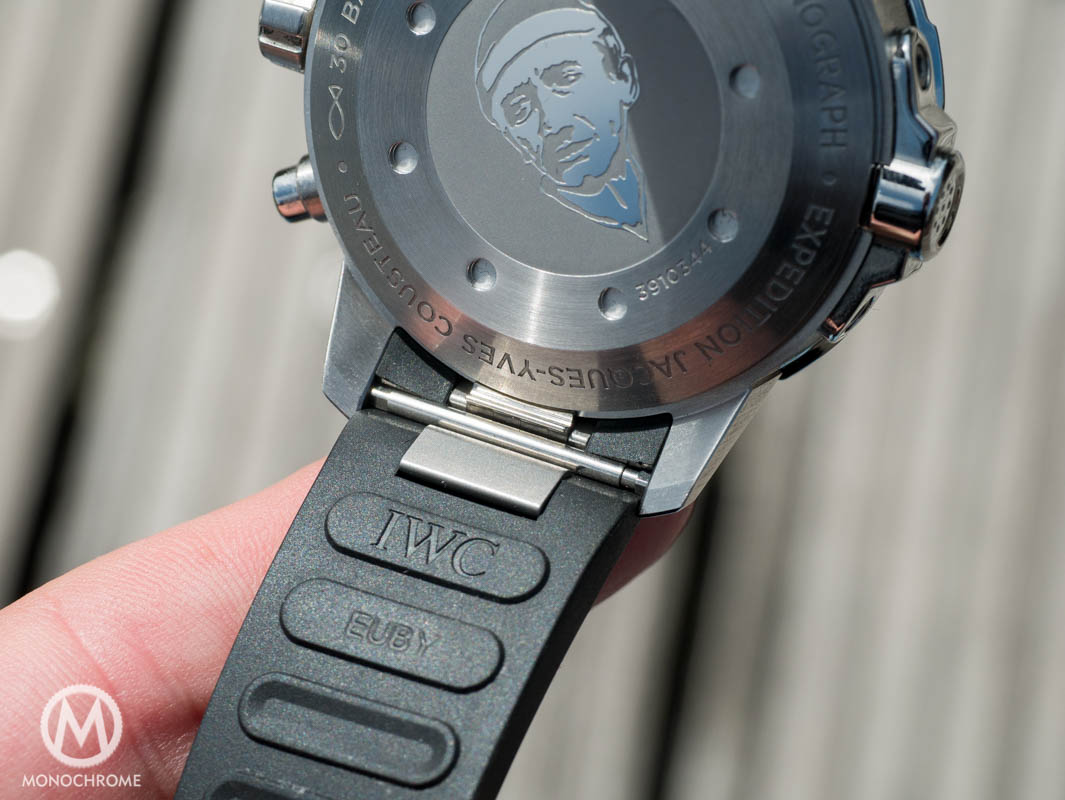 Dial/Hands:
Since 2004, IWC has introduced several Aquatimer models that were dedicated to Jacques-Yves Cousteau and the Cousteau Society. Part of the proceeds from every sale goes directly to the Cousteau Society and helps fulfill the legacy of the committed environmentalist. The first (non-chronograph) version was introduced in 2004 as a limited edition of 1,953 pieces. The common denominator of the Cousteau editions is a blue dial. The latest Cousteau edition that we reviewed features a dark blue dial, with white luminescent hour markers and hands, and an orange second hand and orange tip on the chronograph seconds hand. The markers on the rotating dive bezel, starting with the triangle at 12 o'clock through the 15-minute marker at 3 0′clock, emit green light, as does the running seconds hand at 9 o'clock. All hour markers, as well as the hour and minute hands, emit blue light when the luminescent material has been charged from a light source.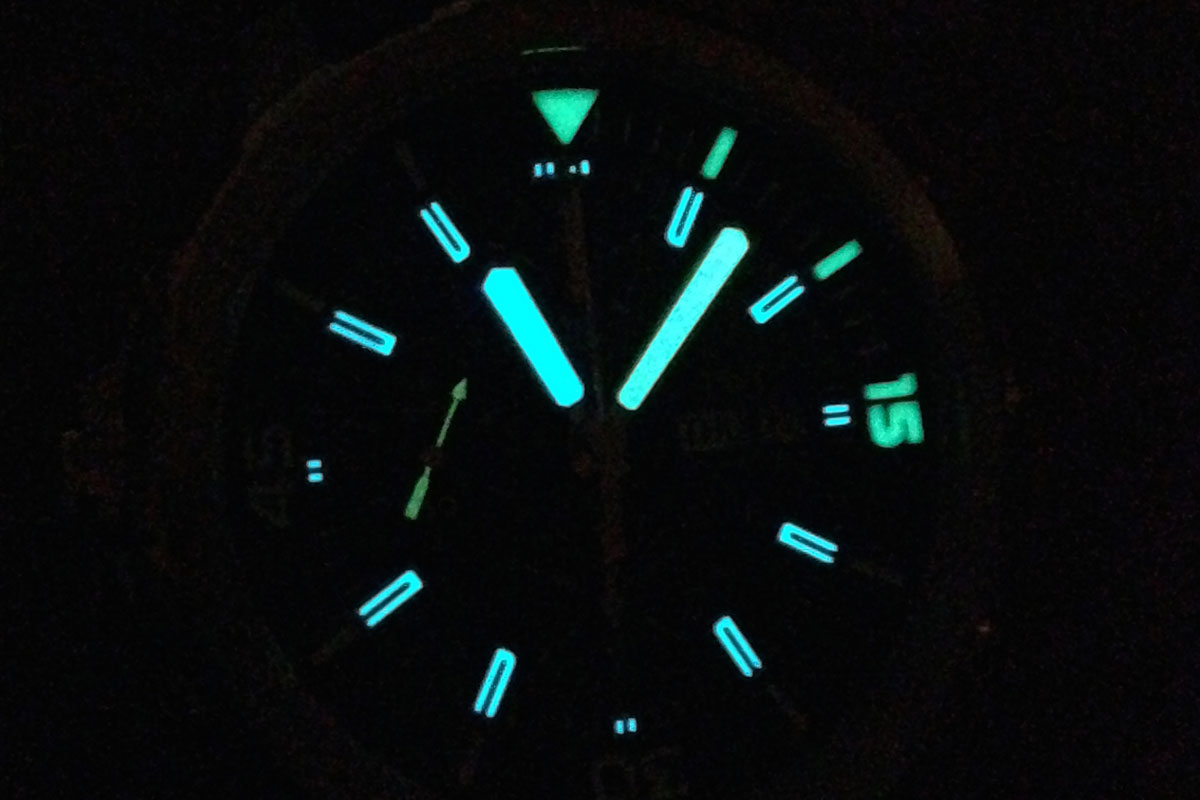 Case / Strap:
Being a rather large watch, with a diameter of 44 mm and thickness of 17 mm, there's no way this IWC Aquatimer will fit under your cuffs. It's also quite heavy; however, due to the shaped rubber strap, it wears well — very well, actually. This rubber strap can be detached (via the IWC bracelet quick-change system), allowing you to switch to IWC's stainless steel bracelet or, if you prefer, a NATO strap.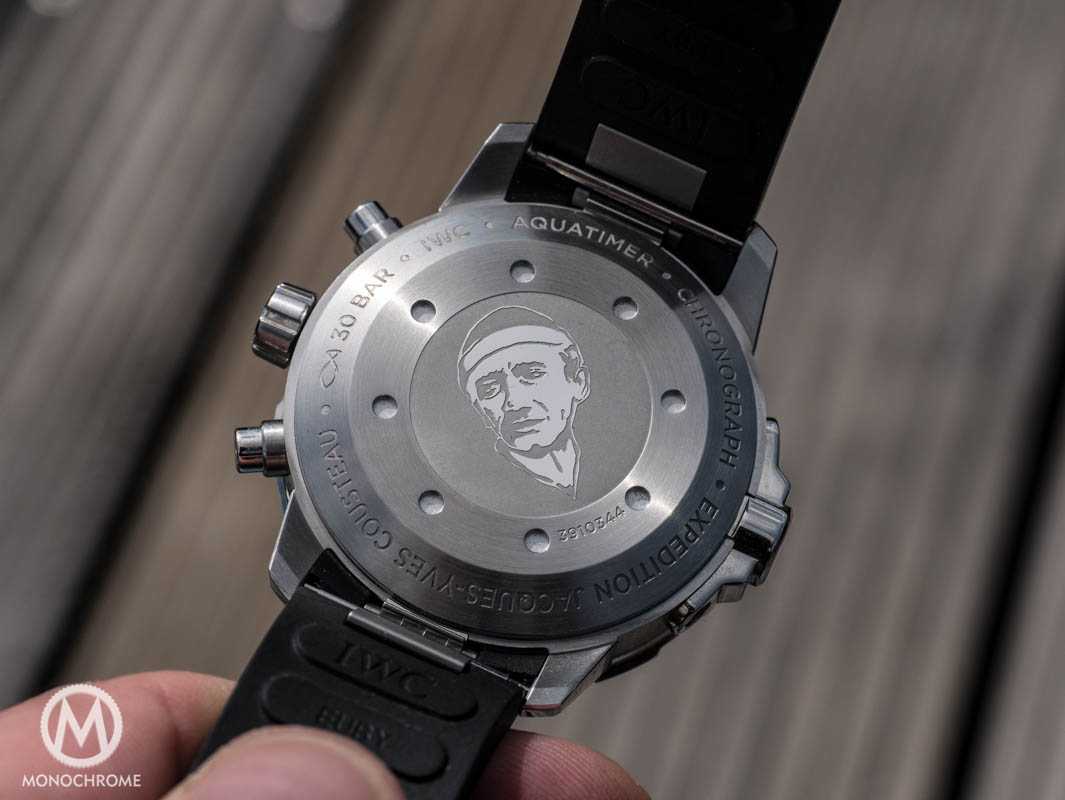 The stainless steel case features brushed, satin-finished and polished parts. The caseback features a bas-relief engraving of Jacques-Yves Cousteau with his trademark red woolen beanie. Engraved around that is the brand and model name and the depth rating of "30 bar," which equals 300 meters. Here you can see the crown and pushers on one side, and the external part of the DiveSafe system on the other side. The Aquatimer Chronograph Cousteau has a convex sapphire crystal with nonreflective coating on both sides.
Movement:
The IWC Aquatimer family comes with a variety of movements, and this particular model is equipped with the IWC Caliber 79320, which is, in fact, a Valjoux 7750 that has been modified/improved by IWC. It's a self-winding mechanical movement, with a 44-hour power reserve when fully wound, which features a chronograph function and a day/date indication. What more is there to say…? This is one of the most reliable movements ever made.
On the wrist:
A strange thing happened during this review. I've worn the watch for about three weeks and in the beginning it felt like "just another dive chronograph," nothing special. After a few days, I started looking at the Aquatimer with more respect and appreciation and began doing so more and more during the test period. Its design is understated, and yet not so understated at the same time. It wears very comfortably, works perfectly, and does not shout for attention.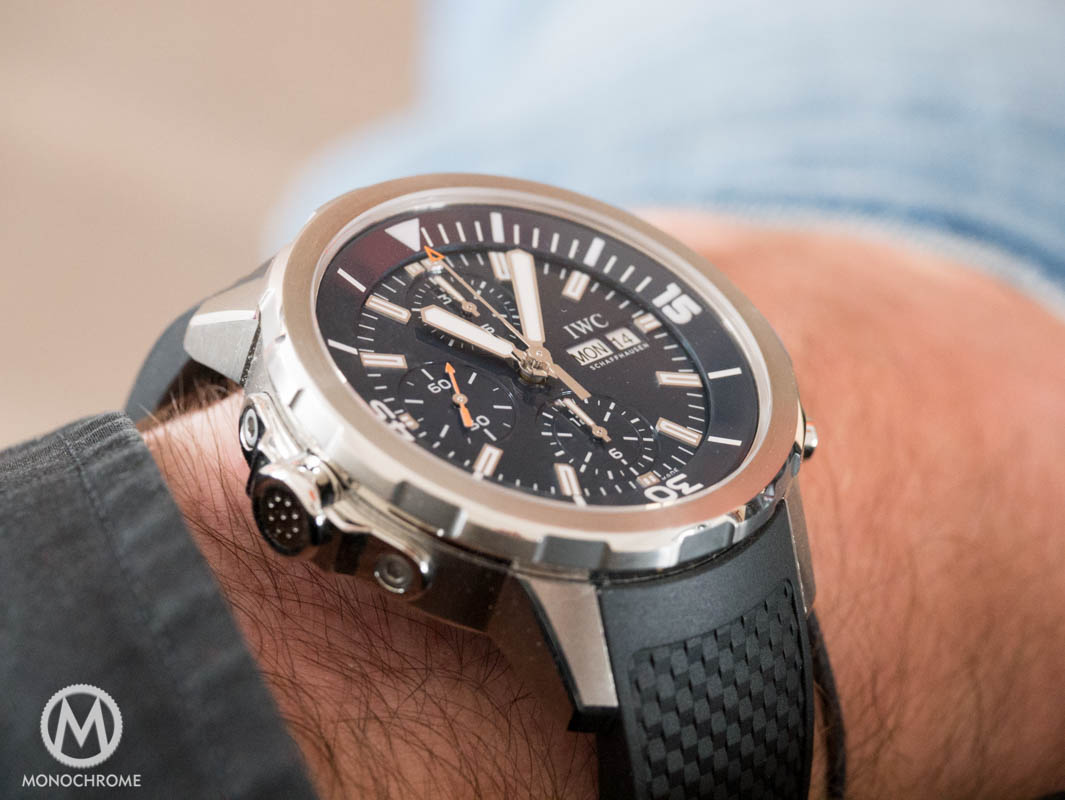 Of course, its competition is stiff. Consider, for instance, the Omega Seamaster Planet Ocean Chronograph (which we also reviewed 2 years ago.) Its price tag is around 300 euros lower, and that one comes with an in-house co-axial chronograph movement and a depth rating of 600 meters. On the other hand, the Omega is heavier and wears bigger on the wrist.
The Verdict – pros and cons:
"Functionality prevails" seems to be IWC's motto, and this Aquatimer Chronograph Edition Expedition Jacques-Yves Cousteau is the perfect proof of such a motto. On one hand, it's a shame it does not have an in-house movement; on the other hand, IWC Caliber 79320 is a built-to-last movement. The design is not screaming for attention, but it does catch attention and always gets positive comments. The legibility is superb, it functions flawlessly, the inner/outer bezel (DiveSafe system) is really superb, and the bracelet quick-change system proved to be very handy. So what we've got here is the perfect "tool watch." It's made for diving, for serving someone in a situation where tools must function properly, and it looks good as well. This IWC Aquatimer has grown on me during the review period. I already liked it at the start, but my appreciation of it has only grown deeper.